June 6-10, 2009 - Panama City Beach - UCA Cheer Camp.
This was my first time to chaperone cheerleaders.
I felt like I was in the middle of a "Bring It On" movie...

My car before we left Pearl, Mississippi at 6:00 a.m.
They painted all the windows.
They had to wash some of it off so I could see out to drive.
(I had 3 girls with me.)

Passing through Hattiesburg, Mississippi
This is where April wants to go to college, Southern Miss
(7th grade and already has her plans made.)
Some of the cheerleaders in front of the Convention Center (Camp).
It's hard to get all 16 girls still for a picture
Part of the girls on the rocks by the swimming pool.
Couldn't get all 16 girls on the rocks at one time.
April
(My little girl is growing up)
The girls before heading off to the Luau Party

April & her friend, Holly I. (from the Dance Team) at the Luau
Dance competition was going on at the same time.


The squad performing their Extreme Routine
April is a flyer.



The squad doing their cheer.
(The picture was blurry so I made it fun looking.)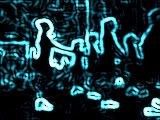 The last day
They won 4 Superiors, 1 Excellent
& Most Improved Squad
(Not sure why the picture
turned out so small)
April on the ride home
before she passed out & slept the rest of the way home.


It turned out to be a fun trip.
The girls didn't have too much free time...but I did!!