I have been blogging on some serious topics, so I decided to lighten it up a bit. I was riding in my car yesterday when I started thinking back to when my girls were younger. When I became a single mom, Hollie was 8 and April was 2. (They are now 21 and 16.)


I'm not sure why, but I started thinking about a day when Hollie was 9. The school called me at work saying Hollie was sick and needed to be picked up. So I called my mother-in-law (MIL) to see if she could pick Hollie up for me. (
I have always had a good relationship with my MIL, and I still call her my MIL. I mean after 15 years of marriage, that's what she is, even though I divorced her son.)

After work, I picked April up at daycare before heading to Byram to get Hollie.
When I got to my MIL's house, she covered her heart with her hand and said, "Laura, you're not going to believe what happened". She said when they got home, Hollie went straight to the sunroom and put in a movie, while she stayed in the kitchen. She said, "I don't know how long I was in the kitchen, but when I went in the sunroom, Hollie said, 'Grammy, what am I watching?'". Then my MIL said, "Laura, it was a naked man and woman, and he was doing everything, but sticking it in her ear". (Those were her exact words.) She said, "I just wanted to warn you, so you'll be prepared if Hollie asks questions". Great! That's all I needed.


So we head back to Pearl (about a 15-20 minute drive), and I decided to pull into the Wendy's drive-thru to get the girls a kid's meal. After I had ordered, Hollie said, "momma, I saw a movie at Grammy's that I wasn't suppose to see". I told her, "that's what I heard". Just as I was getting ready to hand my money to the girl at the window, Hollie said, "Momma! That man was peeing all over that lady, and she was rubbing it all over her stomach! Why would they do that?"

Oh--My--God! So, here I am trying to pay for their meals while hyperventilating,
thinking "oh shit!" (Now, I'm not one to cuss, but...this was an exception.)
So I give the girls their meals, and I think...if I don't say anything, maybe Hollie will think I didn't hear her, and she'll get busy with her toy and forget about it. But, noooo, Hollie asked again, "momma, why would they do that?" So I'm trying to think of something to say and all I could come up with was.."well Hollie, you're going to have to ask Grammy, because it is her movie, and I've never seen it."
Yes, I took the chicken way out, but hey, what would you have said?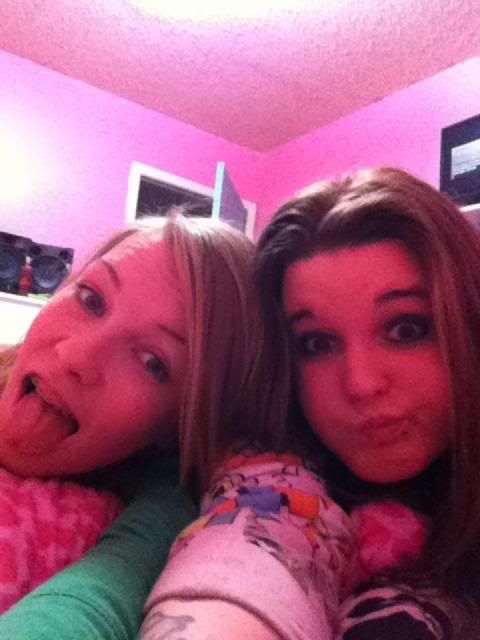 My 2 girls, April and Hollie

(In my mother-in-law's defense, her oldest son had given her a box of "blank" VHS tapes and she had recorded a movie off the Disney Channel that Hollie liked to watch, so she figured that they must not have been blank after all, and she recorded over part of a porn movie.)